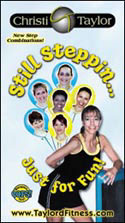 Christi Taylor
Absolutely outstanding! I don't know how Christi manages to keep putting out workouts that are so perfect, but I hope she keeps it up. This is an advanced-level step workout segmented into two parts. It's advanced both in intensity and choreography. In the first section, you have your step facing horizontally and in the second section, it's vertical. The second part is a little lower in intensity but higher in complexity. I didn't find it too complex, though -- it's not as hard to follow as the second part of Step Heaven, but I'm not sure if that's because this one is less complex, or the breakdown is better. I think it's the latter. In any case, I got through it the first time with only some minor mix-ups. Grade A+.
Annie S.
7-30-2001
Love it, love it, love it. In my opinion, Christi's best step tape. Not as complex as the step in 9801, but just as much fun. Again, she makes me like songs I normally can't stand, and now I sing Volare along with her. Funny how she has the power to do that to me. I love both sections and look forward to mixing sections with the Heavenlies. A must-have tape.
MaryAnn Parker
8/16/01
As a die-hard Cathe fan, I love complex choreography, but at times Christi almost makes Cathe's stuff look basic. I watched the tape first, but on my first workout, I still got lost and a bit frustrated several times. However, I also found myself catching on to moves I'd been lost on only minutes before. On my second try, I got nearly all of it and had an intense and thoroughly enjoyable workout. I also thought I'd get sick of Christi's TIFTing; she does more of it than anyone I've seen. But instead I liked it; it gave me a chance to learn what I'd missed before, and her combos are far too complex to become boring any time soon! After the first 20 minutes, Christi turns the bench the other way for the second 20 minutes. The pace is fast enough without being too fast, her cueing is exceptionally good, and the music is pretty good, too. I've been intimidated about trying her other step tapes, but she has won me over. This is a well-taught and FUN workout by a likeable instructor--give it a try.
Jana D.
9/06/01
I traded this away a couple weeks ago (hey, that's a mini review right there) but I wanted to offer another perspective after reading the first reviews.

There are really good and not so good aspects of this tape. This was my first Christi workout and I was a little bit scared of trying her choreography. I shouldn't have been: although her choreo is very, very complex I was very impressed by how well she cued and broke down the moves. And throughout the workout, a group of her background exercisers would do a less complex alternative, so if something was too complex the first few times you saw it, you had the option of doing something less complex, rather than gaping at the TV in confusion.

That said, I have to warn you about the music on this tape: if you are in any way averse to Britney Spears, Spice Girls, N Sync and Backstreet Boys: run, do not walk to the VCR and hit eject. Normally, music on workout videos does not elicit much emotion either way from me. However, this soundtrack was like fingernails down a blackboard. And that wouldn't even be SO bad if Christi didn't SING ALONG!!! Agh!! The first couple of times it was cute and you think, 'look at that, she's having fun.' But after, oh, twenty minutes of singing along and singing her cues, it wears very thin. Ultimately, this is why I drop kicked this baby into the trade bin.

The workout is inter/advanced and keeps your heart rate up really well until the very last combination before the cool down, where your heart rate will plummet while learning the 'hopscotch' move. It's a good workout for the most part, but if any of the above mentioned quirks annoy you, it may not be for you.
Instructor comments: Christi is a great cuer with fun choreography. But she should save the singing for the shower.
erica34
rimlinger@inetarena.com 1/11/02

I really like Christi's Just for Fun series. What makes these videos even more special for me is that I got to be at the filming of them. My reviews for both are exactly the same.

The addition of low-impact (for me) and simpler choreography (for others) modifications makes this workout extremely enjoyable. Once again, I love Christi's music, I love the moves, I love seeing higher impact options for days my back doesn't hurt, I love this video!

The only change I would make would be to have all of the participants showing the modifications on one side of the screen and Christi and the "dancier options" participants on the other side of the screen rather than having one set in front and the other in back. I think there might be a little less distraction from the viewer's perspective. Some old Jane Fonda tapes did that and it worked well for me (for example, Lean Routine and Jane's first 2 step tapes).

Grade: A

Sharon Muha
smuha@nc.rr.com
1-23-2002

Still Steppin is awesome. I was really worried that I wouldn't find a step video that I liked as well as the gym, but this video put my worries to rest. Everytime I workout I feel like I used to feel at the gym only better because I'm at home. I can't wait to purchase another video. I am definitely one happy stepper.
Instructor comments: I started step at a nearby gym but I really wanted to workout at home whenever I wanted to, so I bought Christi's tape for my first one and I do not regret it at all. I feel like I'm at the gym again . I get a great workout. She has an excellent way of teaching. Cues very well. I had no problems following her . Smiles a lot which is great. She just seems very genuine and down to earth.
Crystal Burton
crystal@moment.nete
4/2/02